Balloon flights in the Netherlands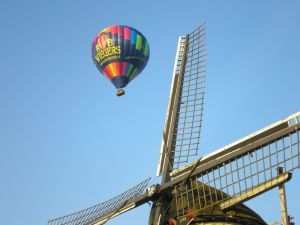 High in the Sky with Rob Wiegers Hot Air Ballooning
If you're looking for a hot air ballooning experience in The Netherlands, you've ended up on the right page. We offer spectacular ballooning trips only 35 minutes away from Amsterdam. For both private ballooning trips and group flights Wiegers ballooning will take you on the flight of your life!
Our balloon flights
Ballooning is most magical during the sunrise and the sunset. Our usual departue times are late the afternoon - up to two hours before sunset. Flights early in the morning are also a possibility, giving a unique start of the day. Rob Wiegers Ballooning offers the greatest flexibility and variety in ballooning experiences:
Regular daily group flights for individual bookings
Book an exclusive private balloon flight for 2 persons (VIP ballooning)
Propose to the love of your life in a hot air balloon
Group flights for up to 100 passengers
Book the Long Jump Balloon Experience XXL
Give an exceptional present with a ballooning gift voucher
Our ballooning locations
We are centrally located, near to Amsterdam. Most of the balloon rides depart from Amersfoort (+/- 35 minutes from Amsterdam). Other departure locations are Hilversum, Utrecht, The Hague, Zoetermeer (Zuid-Holland), Alkmaar, Hoorn and Purmerend (Noord-Holland)
If you are staying in Amsterdam, just hop on the train to Amersfoort. Depending on availability a free transfer from and to the Amersfoort train station is possible.
Ballooning rates
All prices at Rob Wiegers Balloon flights are all-inclusive. This means:
an incredible, unforgettable balloon flight of at least 1 hour
a sparkling toast after the landing
a first flight certificate
liability insurance
transportation from the landing site back to the starting point or nearby train station
VAT
What about the weather?
In the case of rain, cloudy weather or high winds, departure is not possible. Cancellations due to bad weather will of course not be charged.
Our dream… Ballooning
In 1982 we made our dream come true. For over 30 years we happily share our love for ballooning with passengers from all over the world! Together we float away above the beautiful Dutch landscape and admire Holland from a different angle: high in the sky.
Our fleet consists of 10 hot air balloons, 15 balloon pilots and 20 balloon crew members. Due to the big amount of balloons and our large team, we can offer the greatest flexibility in the number of passengers, types of trips and departure locations.
This year we've had visitors from Australia, Bahrein, Belgium, Brazil, Bulgaria, Canada, Denmark, Germany, France, India, Irak, Ireland, Italy, Japan, Latvia, Malta, Netherlands, New Zeeland, Norway, Oman, Qatar, Russia, Saudi Arabia, Spain, Turkey, United Arab Emirates, United Kingdom and United States flying with us!
Rob Wiegers Ballooning BV
Peter van den Breemerweg 9
NL-3768MP Soest
Phone: +31 35 6030028 (9:00AM to 6:00PM)
Whatsapp: +316 55555 147
email: info@luchtballonvaart.com
Visit our ballooning page on Tripadvisor! If you've enjoyed a hot air balloon flight with us, please leave your review at Tripadvisor: Rob Wiegers Hot Air Ballooning on Tripadvisor - balloonrides in the Netherlands